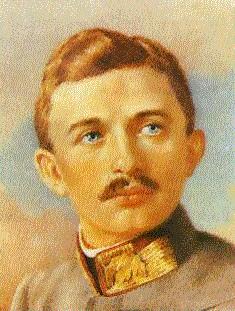 The Servant of God
C H A R L E S
of the House of Austria,
17 August 1887 – 1st April 1922
The servant of God Charles of the House of Austria was born at Persenbeug the 17th of August, 1887. In 1911, he married Princess Zita of Bourbon-Parma. This marriage was blessed by God with eight children. On the 21st of November, 1916, on the feast of the Presentation of the Virgin Mary (all important dates of his life were related to feasts of the Blessed Virgin), the servant of God Charles became Emperor of Austria, and on the 30th of December, 1916, was crowned Apostolic King of Hungary at Budapest. After the First World War, he was banished from his country. His deep faith and his submission to the will of God made it possible for the young Emperor, spouse and father to endure all afflictions. Expelled from his country, deprived of his private possessions, slandered by lies and calumny, he died the 1st of April, 1922, at the age of 35 in exile on Madeira in presence and adoration of the Most Blessed Sacrament. His last words were: "Thy will be done."


Prayer for his Beatification
Almighty God!
From eternity Thou hast chosen Thy servant Charles for the dignity of a ruler and as father of many peoples and distinguished him by the kingly way of the Cross. Let us, we beseech Thee, soon venerate this great sufferer on our Altars and grant us such grace, that we, by the example of his virtues, may form our hearts more and more after the most Holy Heart of Thy Beloved Son. Through the same Jesus Christ our Lord, who lives and reigns with Thee and the Holy Spirit, one God, for ever and ever. Amen.

---

The German version (translation by the author of this site) with permission of the archiepiscopal ordianariate of Vienna from the 27th of November, 1963, No. 1227/1/ex 1962. Please report answered prayer to the secretariate of the prayer league: c/o Father Stephan Sommer OCist, Zisterzienserstift, A-3180 Lilienfeld, NÖ.